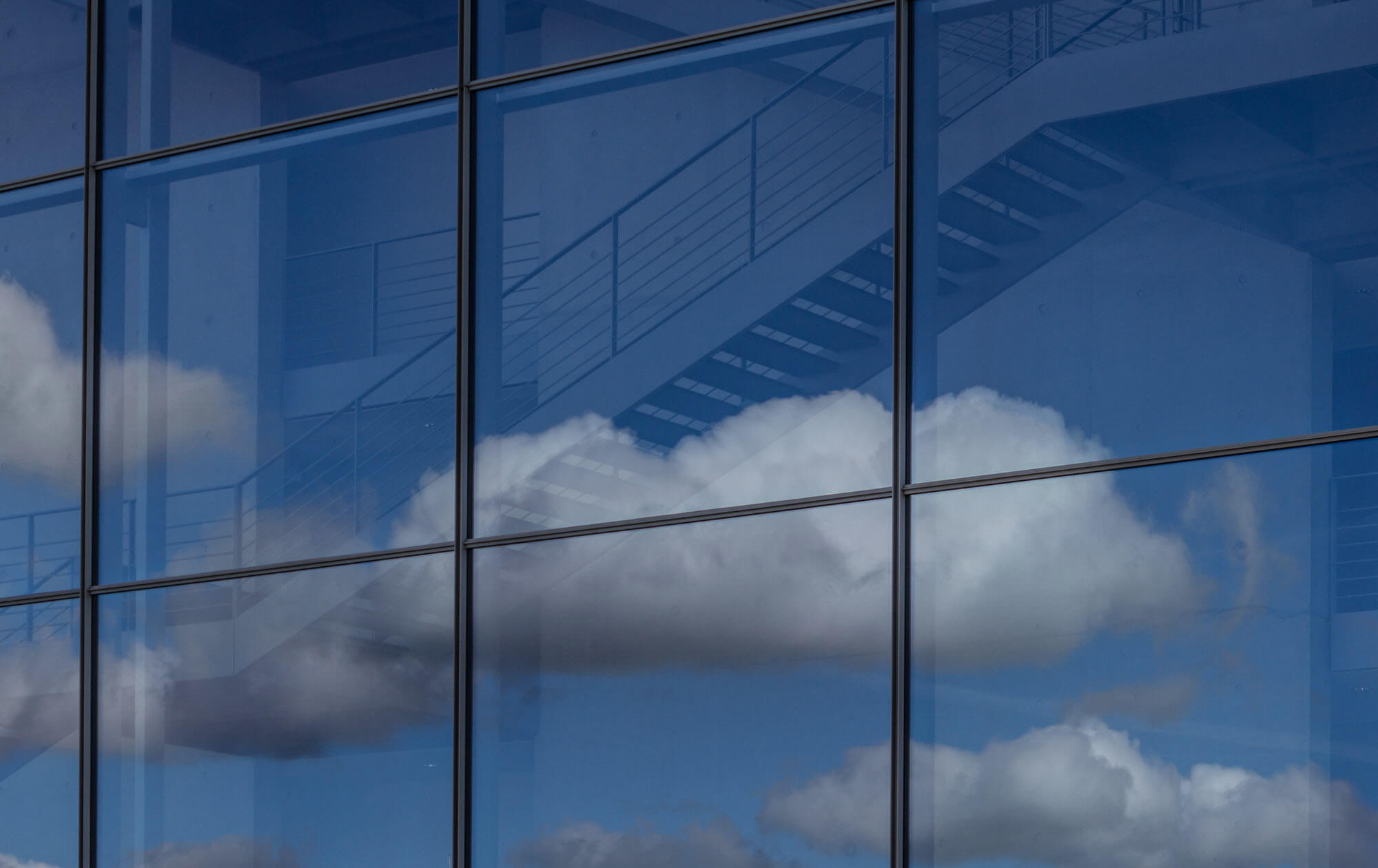 WHAT IS WINDOW FILM?
Technical Explanation
Window Films are thin, multi-layered pieces of optically clear film that are retrofitted to the inside surface of the glass to help you save significantly on energy costs, maintain a more comfortable and productive environment, reduce interior fading, and improve exterior appearance. Films are sputter-coated with durable, exotic metals such as titanium, stainless steel, copper, gold, silver, Inconel, chromium, aluminum, and other alloys. These varying combinations of metals are what give exceptional solar performance capabilities and colors. This allows not just the blockage of light but actually blocks out the heat.
All of our window films are also protected with a scratch-resistant coating, inspected using state-of-the-art equipment, and put through some of the most stringent endurance tests, leaving you with the highest quality window film for your home or building.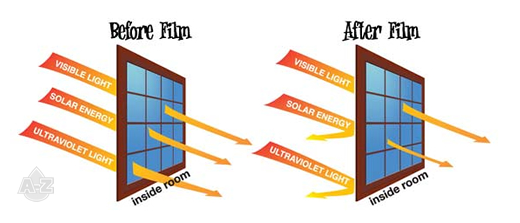 WHAT DOES WINDOW TINTING DO?
Think of it as sunglasses for your building. While darker glasses will typically reduce the feeling of the sun's intensity, it is not always the case. The key is to find a reflective film that will reflect unwanted wavelengths. By using metals and high-tech processes in the film, select wavelengths are blocked and kept outside (or inside) the building. Because film selects the rays that we'd like to block, we are able to reduce harmful UV, micro, and infrared rays, while filtering out intense light to choose the brightness of the room. In with the good light, out with the bad…
HOW IS WINDOW TINT APPLIED?
A professional installer would come into your home and take all blinds and obstructions out of the way. The air conditioning and fans in the room must be turned off to keep the tiny dust particles from contaminating the film or the window. The window surface and surrounding frames and sills are then thoroughly cleaned. After this is accomplished, the film is cut to size and the adhesive is activated. Once the film is on the window all air bubbles are worked out and it is pressed firmly onto the glass. The film can take up to 8 weeks here to dry completely to perfection.
IS INSTALLING WINDOW FILM EXPENSIVE?
At comparable prices to sunscreens, you will find that it will save you far more money than it will cost you. That's not to mention the fact that there will be no extra maintenance cost associated with window film's cleaning or care. We offer 2 lines of window films to balance high technology with high value so we can not only meet your needs, but your budget.
WHAT ARE THE BENEFITS OF INSTALLING WINDOW FILM?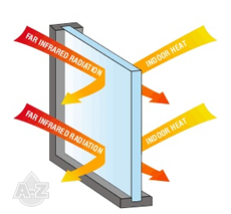 Energy Efficiency
Reflective window film can reduce summer solar heat gain by up to 49 percent and reject up to 89% of solar energy! That can have a dramatic impact on the comfort of your south-facing rooms. Different types of clear glass and window systems will reject 13-29% of the solar heat. With window films, up to 90% solar heat rejection can be obtained. And your summer electricity bills will be easier to handle as well – manufacturers say for every 100 square feet of window film you install, you'll save one ton of air conditioning capacity!
We even have a software program called Specularis that will take into consideration your hottest rooms. We simply measure the specifics of the room, choose your desired temperature, choose the look of the film you like–and presto…
We can look at the specific results on how you will be affected by the new window film of your choice. 
UV Protection
By choosing which rays are allowed to enter your home, window film will successfully block out 99% of all UV rays. This means fading protection for your artwork, furniture, and carpets–not to mention protection for your family's skin.
There are six factors affecting fabric fading:
Ultraviolet Light

Visible Light

Heat and Humidity

Chemical Vapors (including ozone)

Age of Fabric

Dye Fastness
Clear single pane glass (1/8″ to 1/4″) will reject 23-28% of the ultraviolet light from the sun. Insulated glass is slightly better, rejecting 36-41%. Our window films installed on glass reject 99-99.9% of solar ultraviolet light. No window film can eliminate fading. It can, however, offer maximum protection from fading due to solar ultraviolet light and solar heat.
Safety Benefits
When glass breaks, usually someone gets hurt. One of window film's great properties is that if your window was ever hit or crashed into, it would tend to keep the glass together–and away from your loved ones.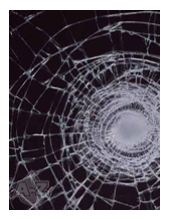 We do offer extremely thick versions (security films) to keep thieves and golf balls from penetrating or doing even more serious damage, but any one of our films will help reduce, if not eliminate, glass fragments when a window is broken.
Think of all the times this might come in handy:
Kids wrestling on a bed or floor near a window

A dog jumping through [what looks like] an open window

A rock from the lawn mower

A baseball from a pick-up game out in the back yard

A golf ball from the course behind your house

An innocent game of catch in the family room

Pesky teenagers throwing eggs on Halloween

A bird tries to fly through your window 
We've never met anyone who intentionally broke their windows, but if it happens, it is better to keep the shards away from your family
Glare Reduction
Does the afternoon sun set on your television screen? Can you barely stand to be in a room at certain times of the day when the sun funnels into the point of glare torturing your eyes? If glare is bothering you, consider a window film that can cut glare by 87%. Cutting the glare is not only good for your eyes, but makes working in the kitchen, office, and living area much more bearable.
Privacy
Window films have many properties that involve reflection. By reflecting visible light, one has the ability to keep a room from getting as hot but also can keep unwanted eyes from viewing your home or office. Obviously, not all window films produce privacy, but if that is one of your goals let us know. We have a selection of films that will reflect outward more so than inward for better nighttime privacy, too!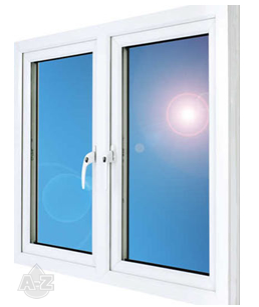 Clear Views
With absolutely no obstructions, window film will keep your view crystal clear and sharp. Don't worry about losing your million-dollar view. You will get to keep it along with the added efficiency. You will be able to see your kids easily by the pool and don't worry about nighttime "mirroring" if your night view is important–we have films for that too! Unlike the mechanical approach of sunscreens, solar films focus on blocking rays, not views.
HOW DO I CARE FOR MY NEW WINDOW TINT?
Window tint is easily cared for in comparison to solar screens. Simply do not use any chemicals with ammonia, harsh, or abrasive chemicals. We recommend using pure water with either a professional window cleaner such as "Glass Gleam 4" added. We use Glass Gleam 4 on all windows we clean and have had superior success. If you don't plan on having a professional window cleaner wash your newly tinted windows–leave your Windex under the sink and grab a soft cloth and a solution of 1/4 tsp. dish soap and 1 quart of pure water. Of course, a high-quality soft rubber squeegee would speed things up a bit, too. Remember, the film is only applied on the inside of the building, so you can use any technique you choose on the exterior.