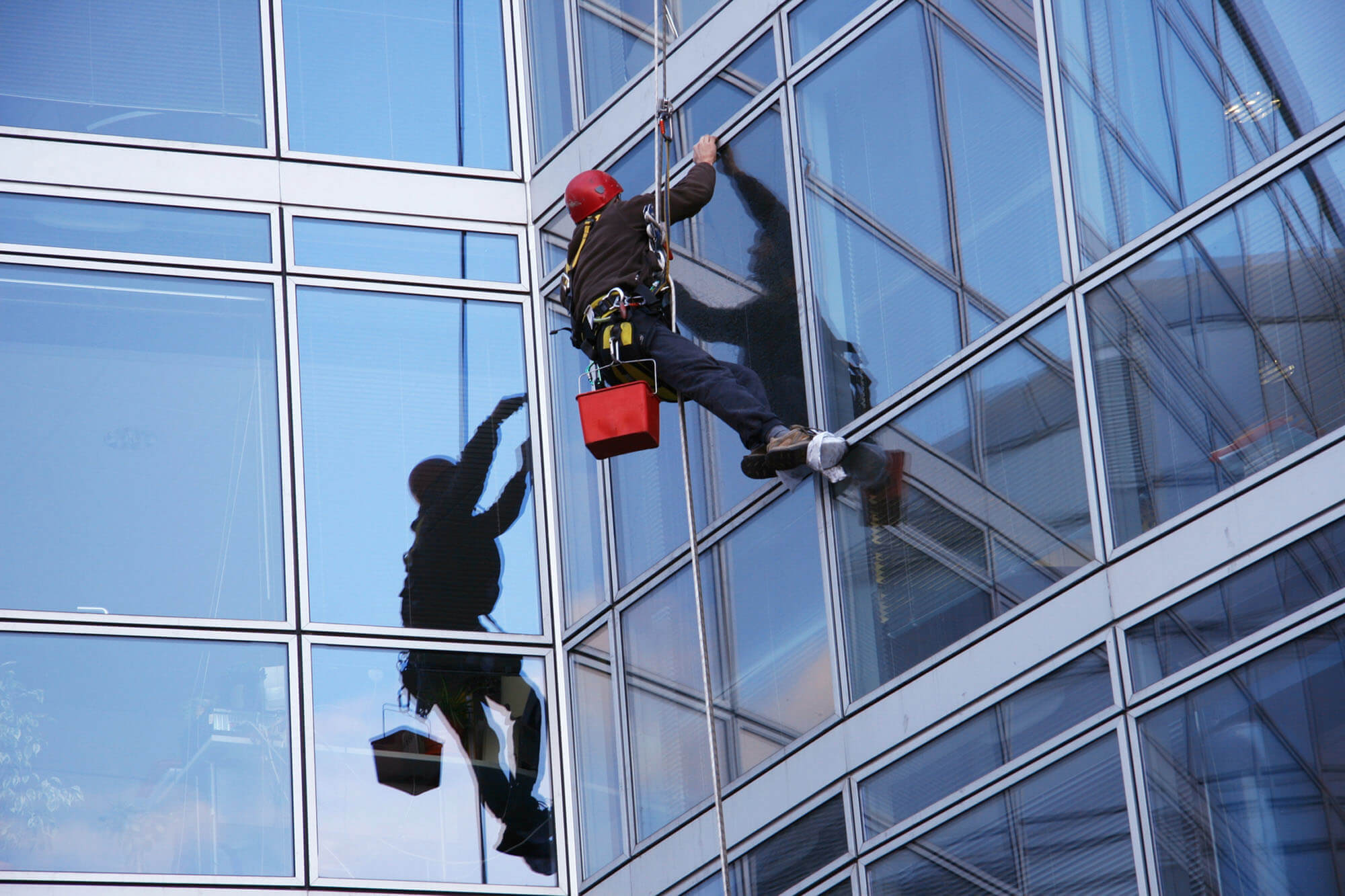 HOW OFTEN SHOULD I HAVE MY WINDOWS CLEANED?
AZPW Maintenance Services Co., Inc. recommends cleanings windows when "dirt and residue appear." The importance of regular cleanings reduces the risk of harmful deposits which can damage glass. AZPW Maintenance Services Co., Inc. advises monthly cleanings for businesses and quarterly service for residential clients. Glass replacement is not cheap. Let us protect your investment.
WHY DOES WINDOW CLEANING NEED TO BE PERFORMED?
Not only will it enhance the appearance of your building, but your windows will get the protection they need. We use a super concentrated solution found at window supplier. This solution cuts through the dirt and grime, and also acts as a barrier against minerals and chemicals found in rainwater and sprinkler systems.
WHAT MATERIALS ARE USED IN THE PROCESS?
We use a soft strip washer for scrubbing and wetting windows, a scraper (brand new blade for each job-no scratching), a piece of fine steel wool, a super concentrated window cleaning solution (not joy soap as some window washers use), a variety of different size squeegees with new rubbers in them, and dry lint free towels to wipe squeegee between strokes, and to wipe excess water around.
MY WINDOWS ARE TREATED WITH PROTECTIVE FILM (TINT) CAN YOU STILL CLEAN THEM?
Certainly, all of the products AZPW Maintenance Services Co., Inc. uses does not contain ammonia or other harmful chemicals which would ruin your window tint. I work very closely with window tinting companies in the area and I am sure they would be happy to recommend us to clean your windows. I believe this is more of a reason to use our service because I am sure you paid a lot money for there product, we can help protect it.
WHAT ARE THE PRODUCTS YOU USE TO CLEAN MY WINDOWS?
Well if I told you it wouldn't be a secret anymore, but what I could tell you is that we only use professional products for professional window cleaners. No ammonia is used. All of our products are safe for the woodwork around your windows and your pets can even lick our solution and not get sick.
I HAVE SEVERAL WINDOWS WITH MOISTURE INSIDE THE GLASS? MY WINDOWS ARE NOT OLD! HOW DID THIS HAPPEN?
This is referred to as IG or insulated glass failure. Many windows stay clear after 20 years while others are clouded in only 20 days. If you are experiencing this, refer to your warranty information sooner rather than later. The reasons generally trace back to manufacturing mistakes or oversight. Even the best fabricators will have some failed units. However, the window is still defective and not your fault. Reputable providers of quality glass will stand behind their products.
HOW LONG WILL MY WINDOWS STAY CLEAN?
Well, that is tough to say. Many factors I would take into consideration are what type of area you live in, how dirty is the exterior of your home, and do you have screens on your windows. I typically tell customers that their interior windows will stay clean for close to one year. Fingerprints and cooking grease are the only factors that can cause windows to get dirtier earlier. Your exterior windows will get dirty quickly because they are exposed to the elements. I typically tell customers that you will notice their exterior windows getting dirty again after 3-4 months. But that all depends on certain various factors.
WHY SHOULD I HAVE BOTH THE INSIDE AND OUTSIDE CLEANED AT THE SAME TIME?
We strongly recommend doing both the inside and outside at the same time for a first-time customer to see the full effect of a perfectly cleaned window. A smear or smudge on the inside not cleaned by a professional could leave you dissatisfied with your service. You will be amazed at the difference it makes!